Taking Steps Toward Fostering Ownership
Obstacle after obstacle at the 2016 Western New York Tough Mudder, I channeled my inner warrior. When I say I had to dig down deep, I mean it. A year prior, my husband Michael and I, along with several friends, signed up to take on the Tough Mudder. With the understanding that it was a 10-mile course with 20+ obstacles, we knew we had to prepare both physically and mentally.
On their website, it states, "every journey starts with a single step. Start yours here, then see how far you can take it. Whether a fun 5K or a 10-mile chance to push your limits, we've got the challenge for you. Our courses are engineered so that teamwork isn't just encouraged; it's required. With the help of your fellow Mudders, you'll overcome best-in-class obstacles and adrenaline-packed challenges. You'll find out what you're really made of, while having the most fun you've had in recent memory."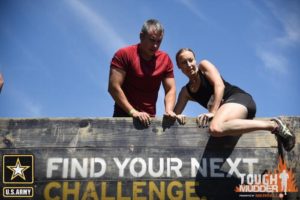 As a crazily passionate educator, of course, I found a connection to this experience and education. In education, we're on an ongoing journey that continuously evolves. Teamwork makes us stronger, and infusing passions is what inspires us to continue forward. You see, no one forced me to sign-up for the Tough Mudder as it was a challenge I aspired to conquer. Recently, I spoke with David Conley, Ph.D., professor of educational policy and leadership at the University of Oregon's College of Education and founder of EdImagine. He and I discussed the future of education and shifts that are occurring such as developing student ownership over learning.
Dr. Conley explained, "students need to have high aspirations, it's really a problem when you're asking kids to do stuff that they don't care about or feel they're not particularly good at. To own learning, students have to develop clear goals and have self-direction because anything you own has to be connected to your internal motivation structure. Goals then convert motivations and aspirations into behavior targets. When things don't go well, you have to be able to demonstrate perseverance and grit." We have all faced failure and will continue to experience it in life. We need to persevere through failure, reflect, and retool to move forward in our journey toward growth.
Ownership Versus Compliance
In speaking of goals and high aspirations, imagine how I would have approached the Tough Mudder in contrast if it was something I didn't care to do but was being told to complete. I don't think I would put in the high level of effort that I did. If entirely uncomfortable or feeling ill-prepared, I may have even demonstrated resistance. Or, perhaps out of compliance I would have drudged through it if a repercussion was connected to not completing the course.
Fortunately, I'm passionate about facing new challenges and pushing myself toward growth in a variety of ways. We have to remember that every individual has a passion, and by infusing passions and the insights shared by Dr. Conley to develop student ownership, we can transform the learning environment to empower learning. Let's explore using the experience of the Tough Mudder.
Developing Clear Goals
Throughout the months that led up to us stepping on the starting line, we prepared our bodies through training. Developing clear goals in preparation was critical for us to conquer the course. We wanted to head into the Tough Mudder with confidence and knew that our confidence would grow by feeling physically and mentally prepared. As we recognized progress toward our goals, it motivated us to continue pushing further. We were driven to continuously work toward our goals as we had ownership over them and aspired to do our best at the Tough Mudder.
As educators are we developing goals and carving out time for our learners to as well?
High Aspirations
The night before the event, I began to read through the waiver that I had signed months in advance. You see, I was leaving our two boys for the day and thoughts of uncertainty started to run through my head as I read the levels of possible injuries that range from minor, serious, to catastrophic. The reality of what I was risking… even death. The wording on the waiver hit me like a ton of bricks. I had to focus on my aspirations to overcome fear and to push my body beyond its comfort zone. I persisted through the feelings of doubt and focused on all that I'd done to prepare myself. Without high aspirations to complete the Tough Mudder, I would have stepped back into comfort. We cannot allow fear to suppress our aspirations, and we need to leverage passions to inspire learning.
What are your aspirations? How do they connect to your passions? Are we supporting learners to identify their passions which lead to aspirations?
The Vibe Connects The Tribe, Creates Motivation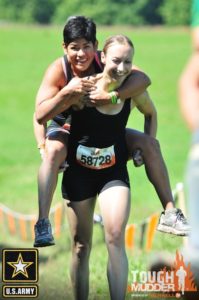 The morning of the event, we stepped onsite ready to take on the obstacles! There's nothing like being present at a Tough Mudder event. Music pumped from speakers, and everyone was giving high-fives, the vibe is more about camaraderie compared to similar events such as races. What I appreciate most about Tough Mudder is that they place a significant emphasis on teamwork and bonding as a tribe. It doesn't matter if you know the person or not, help out each when you see someone needs help.
What steps are you taking to create a vibe that connects and inspires a tribe to move toward the shared vision? How does the energy in your school or classroom inspire learning?
Perseverance and Grit
At the Tough Mudder, it was the Lock Ness Monster that grabbed ahold of my fears. I stood on the brink of jumping into the depth of the murky water and just observed. I knew the water would be over my head and that I'd have nothing to step on to lift my body up and over the revolving metal obstacle. Waves of people kept passing by (except for my encouraging teammates), and I noticed how quickly individuals knocked into others, forcing them underwater. While I successfully conquered this obstacle through perseverance and grit, it was messy; both literally and metaphorically. Muddy water filled my nostrils and individuals collided into me.
Reflecting on this serves as a reminder that when we see individuals who are more hesitant about shifts, it doesn't mean that they're defenders of the status quo. I think that risks require us to calculate the benefits, and consider implications of our actions. The same goes for our learners. They may be cautious to transition to developing ownership over their learning, especially if they're accustomed to compliance based learning. It was the encouragement of others that supported me to step forward through every challenge throughout the Tough Mudder course.
What holds you back from embracing shifts? Whether it's infusing moving from teacher to coach or empowering learning, take time to reflect on what you require to move forward. How are we supporting our learners to develop perseverance and grit?
Reflection
Reflecting on that day, we laughed, cried, and there were times I flat out wanted to quit. But, I never did. As educators, we've all had days like this in the classroom. Throughout the experience, I was never pressured to engage in an obstacle that made me feel uncomfortable. It's incredible how the Tough Mudder environment provokes your inner warrior while also creating systems of support. When confronted with new challenges in education, I think back to my Tough Mudder experience. There were obstacles that I thought I'd completely skip, but I ended up taking on. It was all about having ownership over my goals/, high aspirations that connected to a passion of mine, a supportive environment that energized, and the ability to demonstrate grit.
How do we approach shifts as individuals? Are we teaming up with others to make more significant strides, scaffolding our efforts to gain confidence, or are we trying to entirely avoid the apparent obstacles that are staring back at us?