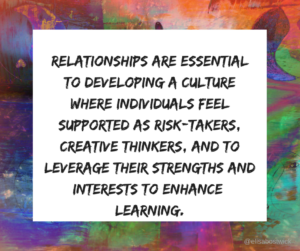 School is in full swing, and enthusiasm continues to soar as learners create, make, and learn through exploring their curiosities. All the while, we dedicate time to cultivating authentic relationships with each and every child entrusted in our care to support them in their journey toward personal excellence. In anticipation of all that will unfold this school year as my learners develop greater autonomy, I continue to revel in my experiences this past summer that contributed to my personal and professional growth, and created some of the very best memories.
My summer kicked off with a bang as I collaborated with educators at the PBS Digital Innovator Summit in Chicago, made a quick turn around to present at Model Schools in Orlando, and then connected with nine highly respected friends and passionate educators back in Chicago to co-author Volume II of Education Write Now, Top Strategies for Improving Relationships and Culture. Together, we learned about the Will To Live Foundation, in which all of our proceeds will go towards, to awareness and increase education to prevent teen suicide.
Interestingly, I had only met one person, Jeff Zoul, face-to-face before our collaborative project. Jeff is someone who I view as not only a friend, but mentor in my journey who I deeply respect. As for the other educators present, we had connected via social media for a number of years, and some I've collaborated with on various projects from miles away. I was thrilled to finally meet everyone face-to-face! Being together felt like being with family, and I'm still in awe of the entire experience. Additionally, I had the opportunity to get to know Lauren Davis from Routledge who provided immense support in the writing process along with Jeff and Sanee Bell. During our time, I was amazed at how quickly we all connected through fostering relationships, which developed into the overarching theme of our book. In just 48 hours we all contributed a chapter, and our work was brought together as Volume II, set to be released in December 2018. If you haven't had the opportunity to read Volume 1 of Education Write Now, I highly recommend checking it out. It was released in December 2017, and focuses on Change in education. 
Each week, authors of Education Write Now Volume II, have been sharing insights into the experience as well as a glimpse into their chapter. Last week Rosa Isiah shared nuggets from her powerful chapter, Connecting with Every Student: Creating a Culture of Equity and Access encouraging us to reflect on the steps we're taking to provide every children with the very best opportunities. Isiah reminds us,"it's our moral imperative to positively influence, nurture, guide and empower our students."
The topic of relationships is not new in education. However, I believe we can make more meaningful and authentic connections with our learners, influencing their lives. My hope is to challenge our thinking to go deeper by connecting with learners through cultivating their strengths and interests, thus nurturing a culture that embraces all individuals for who they are as opposed to shaping our youth to fit within our vision of who they should be.
Our Youth's Perception of Themselves Effects Their Learning
At the conclusion of the first week of school this year, I had my learners write one goal for the upcoming week. A 9-year old girl in my class wrote, my goal is to not be bad this year.
Seeing this written crushed me. I subtly pulled her aside to figure out what was behind her comment to understand why she felt the way she did. She explained, "last year I was bad. I blurted out, didn't follow directions like the other kids, and annoyed everyone." I looked her square in the eyes and said, "when I saw you on my class list, I was beyond excited!" I continued, "you are needed here, and I can't wait to see what you contribute to our class this year, you have so much to offer!" Following that, I listed some of the strengths I readily saw in her such as leadership, persistence, and creative thinking. Now, just imagine for a moment that instead I responded by stating, "that's a great goal to have." What message would that have sent?
Every single child deserves to feel wanted and appreciated in our classrooms. Our youth needs to be seen for the good they bring and provided support in areas they're growing in. Every child brings their own originality, and I'm genuinely excited to see the learners in my class blossom as we explore their strengths and interests this school year in a culture rooted in the foundation of relationships. Sure, challenges will arise, but we need to provide unwavering support and foster resilience in our learners that carry with them long after their time with us.
By honoring the originality of each child and connecting with their unique interests, we cultivate deeper relationships where everyone feels genuinely valued and is embraced by the group; fostering intrinsic motivation and greater autonomy.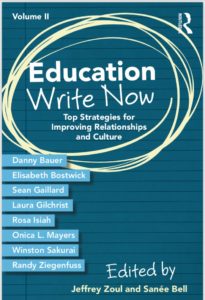 In Education Write Now, Volume II, I elaborate on this topic. Here is an excerpt from my chapter, Connecting With Learners: The Power Behind Cultivating Strengths and Interests that will encourage you to consider why this is essential in our schools.
Relationships are essential to developing a culture where individuals feel supported as risk-takers, creative thinkers, and to leverage their strengths and interests to enhance learning. However, according to one study, research reveals that, "The least favorite students were the non-conformists who made up their own rules. Teachers tend to discriminate against highly creative students, labeling them as troublemakers."1 Reflecting on the research, imagine how we may be negatively shaping learners or influencing the path they take in life by communicating in subtle ways that they're troublemakers. It's concerning that our labeling and communication could create a self-fulfilling prophecy for some. Perhaps as educators, we could reframe our thinking and view non-conformists, or highly creative learners as individuals who can spark immense change if supported to navigate their journey through identifying and cultivating their unique strengths. Let's be cognizant to seek out the strengths of every individual intentionally.
Interestingly, in comparison, compliant learners who seek to appease their parents and teachers by passively following routines, are more favorable to have in class.2 Plain and simple, teaching learners who are compliant, is significantly more manageable. However, compliance rarely shakes up the way we do things. Cultivating an environment where every learner wholeheartedly believes they're of value unleashes untapped potential, particularly as they discover their strengths and interests and grasp that they have a place and purpose.
Fostering agency within a student-centered environment, rather than teacher centered, communicates that every learner profoundly matters. Unfortunately, traditionally speaking, schools have followed a more compliance-based model of teaching and learning where students spend their time focusing on what's directed by their teacher. Our creative thinkers should be perceived as a gift to be discovered rather than a problem to be solved.
In today's world, with technology rapidly accelerating the way we do things, and the economy shifting, we need to empower learners through fostering agency and connect them with their strengths and interests to enhance learning. There is no good reason to why many educators are still dangling carrots in front of students to learn. What benefit does it yield? If students are only learning to appease adults or earn rewards, we've got it wrong. In fact, Alfie Kohn shares, "The more that people are rewarded for doing something, the more likely they are to lose interest in whatever they had to do to get the reward." Creating opportunities for learners to develop agency is a non-negotiable in today's classroom. Whether you have a set curriculum, mandated programs or learning standards to utilize, there are always a variety of ways to infuse learners' strengths and interests to create relevancy and increase learner agency. When students are motivated, learning becomes more productive, leading to richer results. We need to cultivate the disruptor and bust the compliance paradigm.
As for the girl in my class who has a goal to, "not be bad," I cannot wait for her to realize her value as the year continues. She too, has gifts to be discovered and I vow to be the person who helps her reveal them.
Upon the release of Education Write Now, Volume II, you'll have tips and strategies accessible for how you can connect with learners by cultivating their strengths and interests so that every learner can blossom. Our role in education goes far beyond preparing learners to simply be successful in the next grade level, move on to college or become employed. While we can acknowledge that each is important, it doesn't necessarily transfer to creating a lasting impact on learners. We need to ensure that we're not just moving our youth along a track. Join me as we ditch the compliance-based paradigm of learning by connecting through deep relationships, and cultivating students' strengths and interests to foster agency. Together we can take steps forward to transform learning experiences, inspiring students to develop the drive to learn. Let's open the gateway to unlimited possibilities where every individual is encouraged to flourish.
We are the difference makers, and it's essential we take the leap.
Next week, look for Parentcamp: Fill the Relationship Gap Between Schools and Families by Laura Gilchrist. In addition to reading Rosa Isiah's post mentioned earlier, I encourage you to check out past posts from Jeff Zoul: Strategies for Improving Relationships and Culture, and Randy Ziegenfuss: Relationships: The Foundation of Learner-Centered Innovation. In upcoming weeks, be on the lookout for posts from Sanee Bell, Onica Mayers, Winston Sakurai, Sean Gaillard, and Danny Bauer. Each post shares a glimpse into a chapter and insights from our collaborative project.
______________________________________
1-2 Grant, Adam. (2016) Originals. New York, NY: Penguin Books.
3 Kohn, Alfie (2005) Unconditional Parenting. New York, NY: Atria Books